A vision to bring Nu Ice & Drinks, mouth-watering, delicious desserts to Houston.
Being a family that loves to cook, we spent a few years imagining how Nu Cafe could serve the very best to our Houston community.



In 2010, Nu Cafe and Nu Ice & Drinks opened its doors to the public. We started off as a full-fledged restaurant with rice and noodle dishes, along with bubble tea, and shaved ice.


We were the first and original food establishment to serve Artisan Shaved Ice in Texas. Shortly after we opened, people flocked from all over Houston, Dallas, Austin, and even other states to try our Nu Ice, food, and creative drinks.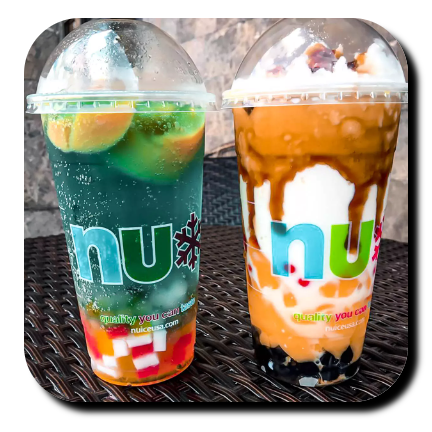 The best Nu Ice & Drinks. Didn't know shaved ice can be this tasty…doesn't even taste like shaved ice! Definitely one of the top 5 places to bring your out of town guests! – Jasmin M., Houston, TX
After three years of insane lines, we decided to stop selling hot foods so we could expand on our shaved ice and Nu Ice & Drinks.
In 2013, we opened up a second location, Nu Ice & Drinks, on the corner of Westheimer and Fountain View to serve people near the Galleria. Since then, we have been inundated with individuals that want to open our store in foreign lands.
Looking for more information regarding franchising? Click Here
Over 36 million people face hunger in the USA today. Every day, people are struggling to make ends meet. We created this business believing we can make a difference in our community, employee lives, and be a force for good.


We strive to leave the world better off because we operated. Over the years, we have partnered with food banks and hunger relief organizations to help provide meals to the homeless. We have been able to provide over 6,200 meals to those in need. Leave this world better because you were here.